04 Oct 2023
Crop nutrition in a changing climate: time to reset or review?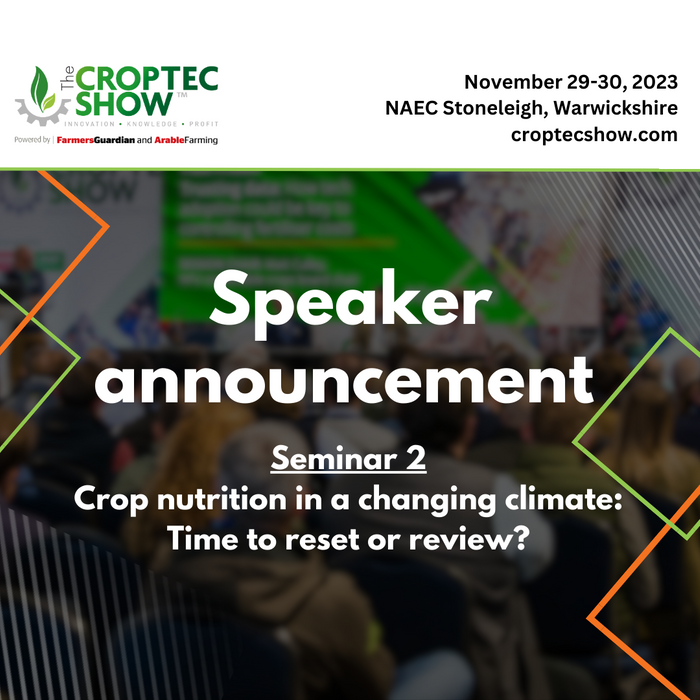 Helping growers make informed decisions about fertiliser use is the primary aim of the crop nutrition seminar session at CropTec on November 29 and 30.
Helping growers make informed decisions about fertiliser use is the primary aim of the crop nutrition seminar session at CropTec on November 29 and 30.
It is 'more important than ever' to be up-to-date on the sector's developments, says Mark Tucker, Sustainability & Business Solutions Manager for Yara which is sponsoring the session. "Fertiliser and crop nutrition is a big expense and growers need to ensure it brings a good return on investment." That involves considering new and upcoming products in order to choose the best option for their needs, and then getting the best out of those products."
Upcoming legislation explored during the session which will be chaired by Sir Peter Kendall. Mr Tucker says: "We have new legislation coming next year which covers urea management. It's important that farmers understand the limitations and opportunities to do things differently."
Sustainability will also be a theme. "Farmers are increasingly adopting regenerative techniques and are more committed to more sustainable practices. We are seeing low carbon products coming onto the market for the next season including fossil fuel free options and pelletized fertilisers made from food waste.
"I am also keen to remind farmers about new technology particularly digital solutions and the marginal gains they can offer. These options such as the Yara N-Tester BT can reveal extra savings or yield opportunities."
Being in November CropTec offers the perfect opportunity to pause and learn something new, he concludes. "It's a great opportunity to explore new ideas with all the conversations that happen at the event, but it is so important to take those ideas forward afterwards." He advises farmers to make a commitment to follow up the issues or ideas that interest them and to put those into action in their businesses.
"At Yara our strapline is 'Knowledge grows' and CropTec is all about knowledge growth which is why it's an important event for us."
Click here for more information and to book your FREE ticket.
Why you should attend
#CropTec23 brings together leading companies from the agricultural sector, showcasing their innovative products and technologies. Within the exhibition hall, attendees will have the opportunity to witness ground-breaking machinery, precision agriculture tools and state-of-the-art imaging software. From drone solutions for crop inspection to autonomous vehicles optimising the use of fertilisers, the exhibitors at this year's show will be presenting the latest advancements with the potential to revolutionise your farming practices!
This year's show will allow you to discover new techniques that can enhance crop yield, optimise sustainability and improve efficiency. The exhibitors attending #CropTec23 are at the forefront of agricultural technology, bringing together the latest innovations under one roof. Gain a competitive advantage by interacting with these exhibitors and implementing their expertise in your farming operations.
#CropTec23 is a must-attend event for anyone involved in agriculture. Through its impressive exhibitor line-up, networking opportunities, educational seminars and cost-effective solutions, this exhibition offers immense value to farmers, agronomists and agricultural enthusiasts alike. Don't miss out on the chance to witness first-hand the cutting-edge technologies shaping the future of farming.