Breaking down access to new markets to cultivate business resilience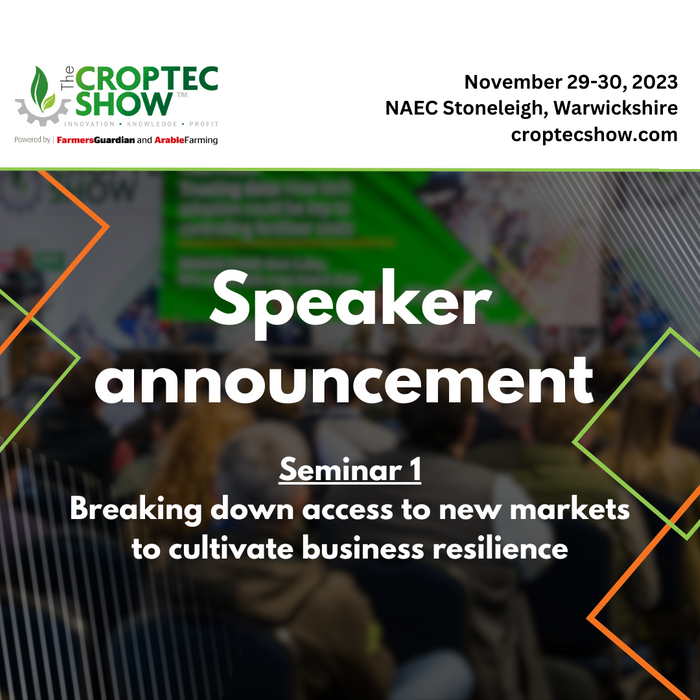 Agriculture is going through an historic transition and the industry needs to recalibrate, says NFU Chief Economics Advisor Rohit Kaushish. "As an industry we need to consider changes to the way government funding is being channelled as well the as increased exposure to volatility in global markets."
Agriculture is going through an historic transition and the industry needs to recalibrate, says NFU Chief Economics Advisor Rohit Kaushish. "As an industry we need to consider changes to the way government funding is being channelled as well the as increased exposure to volatility in global markets."
Mr Kaushish will be chairing the opening session of the CropTec 2023 seminar programme, which he hopes will help farmers looking for new income opportunities to manage the risks and uncertainty ahead. With an impressive line-up of speakers from Defra, AHDB and NIAB 'Breaking down access to new markets to cultivate business resilience' will explore public and private nature markets, the potential of income from nature, as well as novel crops and new markets.
"Farmers are increasingly being approached by project developers in environmental markets who are developing new potential income streams. There are a lot of questions being asked at the moment on the potential of such markets at a farm level. It is therefore a really good time to be exploring these markets in more detail.
"Farmers are looking for clarity on how these markets will work alongside emerging support schemes like ELMS and their core farming business. They need more certainty in that space and this seminar could help provide some insight about how government sees these markets working alongside policy developments."
He believes the session will be useful to any forward-thinking farmers looking to better understand the opportunities and risks of emerging environmental schemes. "It should give an insight into how these markets are developing, possible future outcomes and current emerging trends.
"I have not been to CropTec before, but I am really looking forward to being part of it. We are experiencing a really important time for farming. We need to think about the future of agriculture and how farm businesses can adapt to a fast-evolving market and policy landscape.
"It is an exciting time to take stock of what farmers can do to take advantage of opportunities which may arise and build resilience in this challenging environment."
Click here for more information and to book your FREE ticket.
Why you should attend
#CropTec23 brings together leading companies from the agricultural sector, showcasing their innovative products and technologies. Within the exhibition hall, attendees will have the opportunity to witness ground-breaking machinery, precision agriculture tools and state-of-the-art imaging software. From drone solutions for crop inspection to autonomous vehicles optimising the use of fertilisers, the exhibitors at this year's show will be presenting the latest advancements with the potential to revolutionise your farming practices!
This year's show will allow you to discover new techniques that can enhance crop yield, optimise sustainability and improve efficiency. The exhibitors attending #CropTec23 are at the forefront of agricultural technology, bringing together the latest innovations under one roof. Gain a competitive advantage by interacting with these exhibitors and implementing their expertise in your farming operations.
#CropTec23 is a must-attend event for anyone involved in agriculture. Through its impressive exhibitor line-up, networking opportunities, educational seminars and cost-effective solutions, this exhibition offers immense value to farmers, agronomists and agricultural enthusiasts alike. Don't miss out on the chance to witness first-hand the cutting-edge technologies shaping the future of farming.