04 Oct 2023
Balancing crop protection opportunities and challenges in an environment of change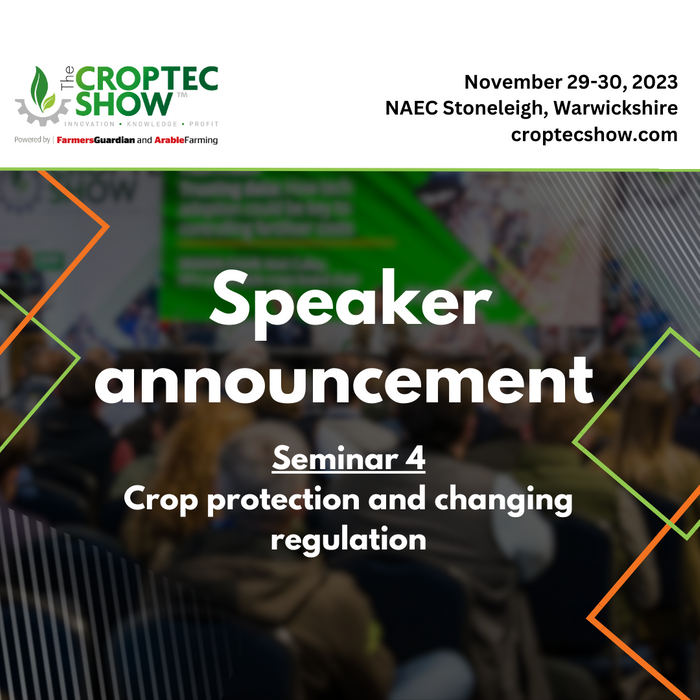 Innovation is the key to coping with the loss of crop protection products and soaring input prices, believes arable farmer and independent agronomist, Will Oliver.
Innovation is the key to coping with the loss of crop protection products and soaring input prices, believes arable farmer and independent agronomist, Will Oliver.
He says: "Legislation drives innovation. Margins have got tighter and we live in a world of high interest rates and high costs of production, so being more efficient is essential." For him this involves continually questioning the methods used on his Leicestershire farm.
"There are savings to be made by analysing the requirement for every treatment and using appropriate doses where required whilst taking care to balance this against the risk involved. At the moment I am exploring how the robustness of treatment with pre-ems can vary according to drilling date or the previous crop, whereas five or six years ago I had a blanket policy.
"The loss of seed dressings has led us to delay drilling where possible, we are using more cultural controls and being more selective with varieties."
It has also led to a change in mindset. "I'm also not chasing yields as much now as I focus on cost of production." He uses the results from trials from independent associations such as AICC and MGA, to help make decisions.
Innovation is also required by plant breeders with development of varieties with better resistance to disease and drought. He says: "We are seeing this come through now, but gene editing will allow it to happen a lot quicker. However, I think it needs re-branding if it is to be accepted by the public. The perception is that gene editing is like genetic modification which isn't true."
Mr Oliver will be chairing the CropTec seminar session 'Crop protection and changing regulation' which he hopes will encourage broader thinking on the subject. "Some farmers out there are being advised by the companies selling the products, whereas I believe you need independent advice you can trust.
"I hope the session will help people focus their minds on this. We are all running businesses and it makes business sense to scrutinise these inputs. Truly independent advice – not linked to sales – is available out there and growers should not be afraid to compare what is available.
"CropTec is a good place to go and get that. It's really good to get off the farm, get out of your comfort zone and talk to other farmers and pull in as much information as possible and make your own mind up."
Speakers in the Crop Protection session include David Schafer from RAGT Seeds, James Bairstow Farming Consultant (Associate Director) for Strutt & Parker and Dave Bench of the Crop Protection Association.
Click here for more information and to book your FREE ticket.
Why you should attend
#CropTec23 brings together leading companies from the agricultural sector, showcasing their innovative products and technologies. Within the exhibition hall, attendees will have the opportunity to witness ground-breaking machinery, precision agriculture tools and state-of-the-art imaging software. From drone solutions for crop inspection to autonomous vehicles optimising the use of fertilisers, the exhibitors at this year's show will be presenting the latest advancements with the potential to revolutionise your farming practices!
This year's show will allow you to discover new techniques that can enhance crop yield, optimise sustainability and improve efficiency. The exhibitors attending #CropTec23 are at the forefront of agricultural technology, bringing together the latest innovations under one roof. Gain a competitive advantage by interacting with these exhibitors and implementing their expertise in your farming operations.
#CropTec23 is a must-attend event for anyone involved in agriculture. Through its impressive exhibitor line-up, networking opportunities, educational seminars and cost-effective solutions, this exhibition offers immense value to farmers, agronomists and agricultural enthusiasts alike. Don't miss out on the chance to witness first-hand the cutting-edge technologies shaping the future of farming.