17 Oct 2023
Announcing our Knowledge hubs for 2023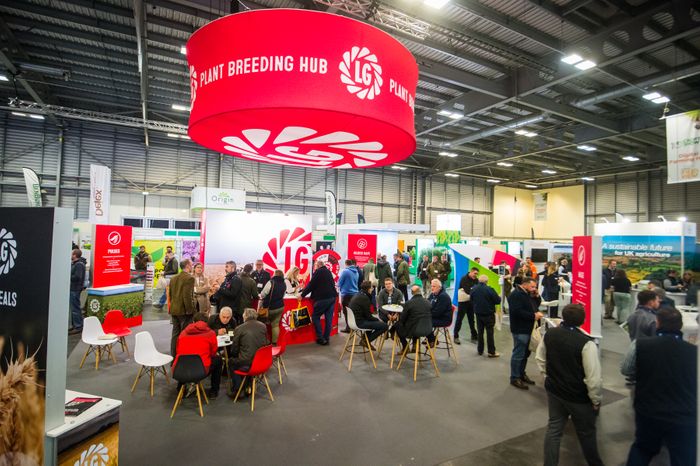 Three specialist Knowledge Hubs at this year's CropTec will offer a 'deep dive' into the arable sector's most pertinent subjects. Visitors will be offered unique insight and understanding of water, technology and smart farming at the show, which is being held at the National Agricultural Exhibition Centre in Stoneleigh Park on 29 and 30 November.
Verity Hyland, event director for CropTec said: "The Knowledge Hubs organised by our sponsors and partners are a great opportunity for farmers to get an in-depth understanding of these key issues and to come away with practical information and advice on next steps."
Anglian Water is inviting farmers and agronomists to visit its 'Water Hub' to discuss the issues surrounding water and to learn about support available from its eight catchment advisors. With panel discussions at 11.45am and 1.15pm both days, and experts on hand during the day for one-to-one conversations, Lincolnshire catchment advisor Julie Jackson said the team is looking forward to meeting as many farmers as possible.
Mrs Jackson said: "We have a brilliant line up for our panel discussions with experienced farmers, agronomists, scientists, seed breeders and policy experts bringing different perspectives."
Farmers on the panel include Guy Smith whose farm in St Osyth, Essex is believed to be the driest in the country, Andrew Ward and Andrew Laughton both from Lincolnshire, contractor and farmer Martin Williams, Simon Day farm manager for AH Worth and Tim Harper, commercial director for Blankney Estates. Chaired by Jill Hewitt, chief executive of the National Association of Agricultural Contractors, the other panellists include Alice Cannon of Farmacy; Pam Chambers, technical support manager for British Sugar; Ron Granger of Limagrain; Tim Hess, Cranfield Professor of water and food systems; and Kelly Hewson-Fisher, Savills head of rural and projects research.
"The team is looking forward to an exploration of the issues and how we can work with farmers to find a way forward," she concluded.
The Innovate UK 'Transforming Food Production' (TFP) Hub will showcase the successes of a £90m programme of the same name, which has been running for the last five years.
Over the two days, Innovate UK will be promoting what has come out of the TFP programme and look ahead at what is available for innovation funding in the future.
Dr Tom Jenkins, deputy challenge director for the TFP programme, said: "We'll be covering two exciting areas at CropTec. Innovate UK works closely with Defra and delivers their Farming Innovation Programme, and the opportunities available will form one area of focus. Secondly, a new programme was launched this year called BridgeAI. We will be exploring how artificial intelligence is being used within the agricultural industry and raising awareness of the opportunities for the sector through the BridgeAI programme."
The Defra-funded Farming Innovation Programme aims to bring benefits to farmers by increasing productivity, sustainability and resilience on their farms - more information is available at: https://farminginnovation.ukri.org/
UPL will host the 'Smart Farming' Hub on its stand at CropTec this year. Visitors will discover more about the Natural Plant Protection (NPP) range of biosolutions, allowing farmers to reduce reliance on traditional chemical pesticides without compromising efficacy or yield. NPP was first launched at last year's CropTec. Looking ahead to spring agronomy programmes, UPL's flagship bio-fungicides Thiopron (sulphur) and Iodus (laminarin) will feature prominently. Technical experts will be on hand to advise farmers and agronomists about how to best use them in combination with conventional chemistry for cost-effective disease control.
A business unit of UPL and part of UPL's OpenAg Network, NPP offers growers a comprehensive portfolio of biosolutions with naturally derived agricultural inputs.
"We are very excited to be not only be exhibiting but also sponsoring a hub at CropTec this year and sharing information with the industry. Sustainable farming is here to stay and UPL is delighted to be part of it," said UPL's Bertha Spangenberg.
Verity Hyland concluded: "Together with our impressive programme in the seminar theatre and busy exhibition halls, CropTec continues to deliver amazing opportunities for knowledge exchange for the arable sector. As before, CPD points will be available for BASIS and NRoSO members who just need to register their attendance at the appropriate stands to claim."
Click here for more information and to book your FREE ticket.
Why you should attend
#CropTec23 brings together leading companies from the agricultural sector, showcasing their innovative products and technologies. Within the exhibition hall, attendees will have the opportunity to witness ground-breaking machinery, precision agriculture tools and state-of-the-art imaging software. From drone solutions for crop inspection to autonomous vehicles optimising the use of fertilisers, the exhibitors at this year's show will be presenting the latest advancements with the potential to revolutionise your farming practices!
This year's show will allow you to discover new techniques that can enhance crop yield, optimise sustainability and improve efficiency. The exhibitors attending #CropTec23 are at the forefront of agricultural technology, bringing together the latest innovations under one roof. Gain a competitive advantage by interacting with these exhibitors and implementing their expertise in your farming operations.
#CropTec23 is a must-attend event for anyone involved in agriculture. Through its impressive exhibitor line-up, networking opportunities, educational seminars and cost-effective solutions, this exhibition offers immense value to farmers, agronomists and agricultural enthusiasts alike. Don't miss out on the chance to witness first-hand the cutting-edge technologies shaping the future of farming.